Monday, December 29, 2008
Posted by Pensblog Staff at 1:53 AM
Unless your whole life is a joke, you don't need to be walked through that statistical comparison.
But you should know that the '07-'08 stats are what the Pens had accumulated through 38 games last season.
They've only played 36 games so far this season.
Malkin's 18-point increase is just ridiculous.
Crosby's numbers are down across the board. Wow. 3 points.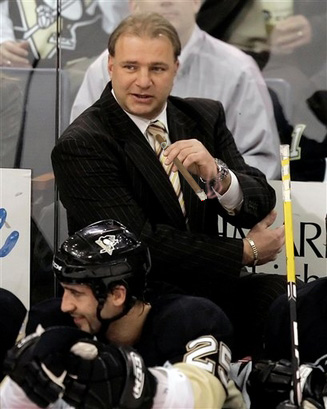 As far as the power play goes, 2 more goals on the PP so far this season would have them sitting at a 19.6% right now.
Yeah, better than last season.
And their PK has battled through injures this season and has improved upon last season's numbers.
Before we looked up these numbers, we were ready to attribute the Pens' woes to perhaps overworking Malkin and Crosby with their new occasional PK duties this season.
But there are no woes at all.
Malkin is on fire. Crosby is doing whatev.
And people just forget what an 82-game NHL season is.
This isn't to say that certain debates creeping up among Pens fans aren't reasonable.
We need something to occupy our time.
Last year's team had an unforeseen hurdle to leap in mid-January last year.
Let's not even think about that right now.
:::::::::::::::::::::::::::::::::::::::::::::::::::::::::::::::::::::::::::::::::::
There's no entity more obnoxious that New York media.
EXHIBIT "A" today is the
NHL INSIDER at NEWSDAY.com
We didn't even know anyone was still talking about this, but NHL INSIDER still has some thoughts about the Crosby ball-punch.
But LARRY BROOKS at the
NYP
takes the cake and feeds it to his wife.
He starts off a column about Ovechkin threatening to break Phil Esposito's single-season shot record of 550.
Ovechkin has 216 as we eek towards the halfway mark.
For people that are interested in this stat, Ovechkin's shooting percentage this year is
10.6%.
That's
160th
in the league.
In Brooks' eyes, Ovechkin challenging this record makes him the league's "greatest player."
But hold the phone. Brooks follows up this claim with this group of words:
The gulf between Ovechkin and every other player in the league is growing wider by the day.

Even if Ovechkin may not be the most talented, or the best skater,

he is by the far the most compelling athlete in the league.
So, wait a minute.
Ovechkin being compelling (which Ovechkin is and which Brooks based his entire column around) makes him the greatest player? Come on.
It's sad that these "sportswriters" let their annoyance of Crosby cloud their judgment in clearly seeing that Malkin is the best player in the league this season.
We know Ovechkin is nasty.
He's as exciting as it gets in the NHL.
We more than gladly acknowledge Ovechkin's dominance of the league when it's happening.
But that's not what's going on right now.
Malkin's on pace for 135 points this season.
That would make him the first player to break 130 points since Lemieux in 1995-96.
Malkin is a +22.
Ovechkin is a +13.
Ovechkin-Malkin went 1-2 respectively in the 2004 draft.
Has there ever been a better top-two picks?
A quick list of every draft since 1990:
1990:
Two solid NHL players.
1991:
Lindros was good until his head fell off. Pat Falloon. Ouch
1992:
Yashin's turtlenecks were solid.
1993:
Daigle= not so much. Pronger is a beast.
1994:
Blah.
1995:
Ottawa's drafting in the '90s was a comedy of errors.
Redden sucks.
1996:
Take Phillips. Zyuzin was a disaster.
1997:
Yeah, that is a good draft.
1998:
If Legwand would have panned out, this draft could have been something.
1999:
Yea, Stefan sucks. Sedin is cash.
2000:
Two franchise players.
Two joke human beings.
2001:
This one is a contender, possibly. But not really.
2002:
Nash is wasting away. Lehtonen never shows up.
2003:
Another challenger. Still coming up short.
Fleury with only 5 assists?
Looking even further back, the 80's were whatev.
The 1988 draft might currently be the best 1-2 combination of all time.
Wow.
Just to vomit -- The Penguins had the fourth pick in the 1988, they drafted some dude named Darrin Shannon.
Look who they could have had:
Jesus. Does anyone even know who Darrin Shannon is?
Tony Esposito was the GM in 1988.
We may have to look into his one-year reign a little closer.
What a joke.
:::::::::::::::::::::::::::::::::::::::::::::::::::::::::::::::::::
Last season, we were on top of everything related to the Winter Classic.
Not so much this year.
But there's some good links floating around out there.
You can find most of them at
NHL.COM.
The most intriguing is the time-lapse camera of Wrigley Field's transformation.
HERE.
This passed us up, too.
Winter Classic Lost Logo Challenge.
LINK
Spot the player with the Reebok logo missing on his jersey, and you win whatever.
::::::::::::::::::::::::::::::::::::::::::::::::::::::::::::::::::::::
We do want to address the rumors Eklund posted over the weekend.
LINK
Beaker and Splinter share the same agent.
Eklund said we've initiated talks in bringing Beaker to Pittsburgh.
100% unfounded.
::::::::::::::::::::::::::::::::::::::::::::::::::::::::
Stunned.
Go Pens
Disclaimer
We are in no way affiliated with the Pittsburgh Penguins of the National Hockey League.
In accordance with the Fair Use Copyright Law, The Pensblog uses logos and registered trademarks of the National Hockey League to convey our criticism and inform the public.
Photos on The Pensblog are used without permission but do not interfere with said owner's profit.
If you own a specific image on this site and want it removed, please e-mail us (thepensblog@gmail.com) and we will be happy to oblige.
wooo
This work is licensed under a
Creative Commons Attribution 3.0 Unported License
.