Friday, September 22, 2006
Picture: Tom Barrasso getting slammed with rats in the 1995-96 Eastern Conference Finals. Florida Panthers fans would celebrate goals by throwing plastic rats onto the ice. Barrasso took it like a man while continuing his penchant for wearing stupid goalie masks:




Doesn't look like a two-time Stanley Cup Champion to me.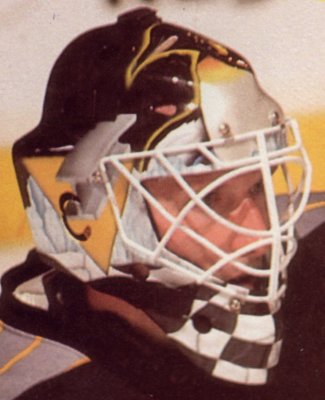 The latter years had him using elaborate designs as a way to disorient shooters.




Who is Tom Barrasso? I won't go into his career/life story, but he was an all-time great goaltender for the Pittsburgh Penguins. He grew weary of media attention here in Pittsburgh, eventually abolishing all contact with the media, and thus became a player that most fans loved to hate. He was traded to Ottawa in 1999-2000. He jumped around to a couple different places until he retired.
He is mostly remembered for the David Volek ball-breaker and the goal that Tom Fitzgerald scored from the parking lot. However, he also backstopped the Pens to our only two Stanley Cups. At the end of his career, he signed with the Penguins for one day, just so he could retire as a Penguin.
Couple all that with never really seeing the personal side of him, and what you have is a mythical figure of Pittsburgh sports lore.

Tom Barrasso's stats

The Pensblog salutes Tom Barrasso on, what better be, a Hall-of-Fame career.

Disclaimer
We are in no way affiliated with the Pittsburgh Penguins of the National Hockey League.
In accordance with the Fair Use Copyright Law, The Pensblog uses logos and registered trademarks of the National Hockey League to convey our criticism and inform the public.
Photos on The Pensblog are used without permission but do not interfere with said owner's profit.
If you own a specific image on this site and want it removed, please e-mail us (thepensblog@gmail.com) and we will be happy to oblige.
wooo
This work is licensed under a
Creative Commons Attribution 3.0 Unported License
.