Friday, September 15, 2006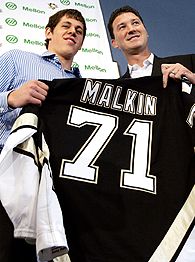 So...according to this article on 9/15, a Russian court has banned Evgeni Malkin from playing in the NHL. Metallurg's (Malkin's Russian team) general director Gennady Velichkin refers to the U.S. stealing Russia's best players as 'pure sports terrorism'.

Here's an article from a Russian news source.

And here's TSN Canada's article.

How I long for the days when we won't have to worry about arena deals and player soap operas. Drop the friggen puck already.
Disclaimer
We are in no way affiliated with the Pittsburgh Penguins of the National Hockey League.
In accordance with the Fair Use Copyright Law, The Pensblog uses logos and registered trademarks of the National Hockey League to convey our criticism and inform the public.
Photos on The Pensblog are used without permission but do not interfere with said owner's profit.
If you own a specific image on this site and want it removed, please e-mail us (thepensblog@gmail.com) and we will be happy to oblige.
wooo
This work is licensed under a
Creative Commons Attribution 3.0 Unported License
.